SCORE Auditions and Rehearsals
What is an Audition with SCORE like?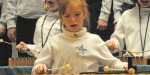 Well, it is not as intimidating as you might think.  The directors here at SCORE wish to have an opportunity to meet you and talk with you about SCORE.  This brief audition gives you the opportunity to ask questions and gives us the opportunity to hear you!   A typical audition takes only 10 minutes, includes simple echo singing and rhythmic patterns.   Our goal is to give every musically motivated child the opportunity to participate in SCORE and auditions are geared toward success.
SCORE Rehearsals are held every Wednesday during the SCORE concert season.
Every week we work together chorally, then break into small groups for instruction on the various instruments.   As we get closer to concerts, we layer the voices and instruments into pieces that are arranged specifically for this age group and instrumentation.  Here is a brief video clip of a rehearsal on stage the week before our Warrenton Wassail concert in December 2011.