Missions and Goals
SCORE Mission
To give highly motivated children an opportunity to experience the rigors and joys of ensemble music.
To seek a musical aesthetic, a "sound" which is a true expression of children eight to twelve years old.
To implement, and be able to demonstrate, pedagogical principles and rehearsal techniques, which successfully enhance a child's musical development.
To extend the SCORE approach and its availability to children who are underserved in music education.
The American Children of SCORE (String, Choral, Orff, Recorder Ensemble) is a unique performing musical group for children in the third through sixth grades. SCORE is comprised of children from the northern Piedmont region of Virginia who have been selected by audition.
All children are trained in weekly rehearsals to sing chorally. In addition they are trained to play recorder, Orff instruments (xylophones, glockenspiels, drums, etc.), and/or traditional string instruments. Violins, violas, and cellos, along with voices, recorders and Orff instruments combine in arrangements that have been created specifically for this instrumentation and age group. The sounds are elemental, and the possibilities are endless.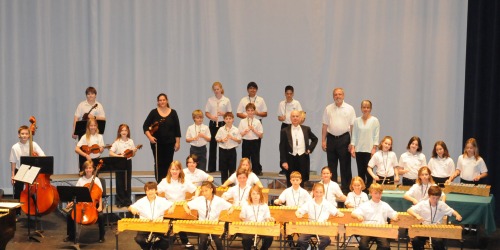 Photo: SCORE with guest artist Mark Jaster
Strings, recorders, xylophones and glockenspiels combine to create the SCORE "sound'. SCORE finds its own sound by arranging, creating, rehearsing, and performing music that fits this ensemble. Much of the repertoire is based on folk material but the children also learn Medieval and Renaissance pieces adapted from various sources and pieces from the Orff-Keetman Orff-Schulwerk "Music for Children" volumes. The combination of these instruments and voices creates a child-like, yet almost symphonic sound that the Washington Post called "ethereal…transfixing."
All donations, large and small, are tax-deductible, and will help the organization grow in its mission. The American Children of SCORE is a 501(c)(3) non-profit, equal opportunity cultural organization. It does not discriminate on the basis of race, creed, color, or gender.
Contributions can be sent to:
The American Children of SCORE
Post Office Box 3423
Warrenton, Virginia 20188
If you'd like to discuss making a gift or contribution to SCORE, call Betsy Porter at 540-428-2313 or email or donate online now: